The majority of people rely on machines, and the dishwasher is one of those machines. Everyone is using dishwashers these days. The thing we need to do is just open the dishwasher, place the dishes in the machine, and switch on the machine. We have so many branded dishwashers on the market, but the challenge is keeping them clean. Here is our guide on how to clean a maytag dishwasher. This guide will help you keep your dishwasher clean.
How To Clean a Maytag Dishwasher
Dishwashers are to be used in commercial establishments such as motels and restaurants where many dishes must be cleaned. What is a dishwasher? A dishwasher is a machine that is used to wash dishes, cookware, and cutlery automatically. A combination of water and dishwasher detergent is pumped to one or more rotating sprayers, cleansing the dishes with the cleaning combination. As soon as the wash is completed, the water is tired; extra hot water enters the tub by using an electro-mechanical solenoid valve, and the rinse cycle(s) begin. After the rinse, the water is exhausted once more, and the dishes are dried using one of several drying techniques. In most cases, we face washing machine repair. Our guide shows you how to clean a maytag dishwasher.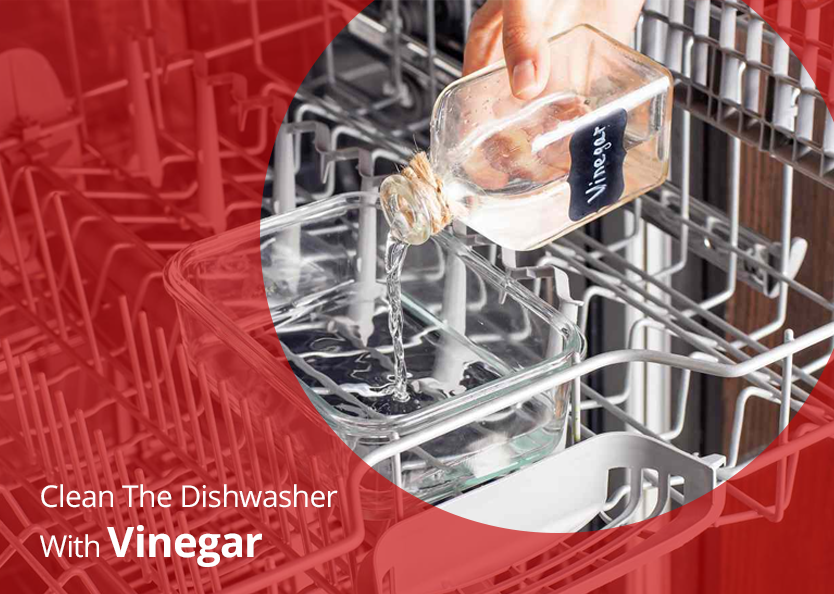 Cleaning Dishwasher With Vinegar
The main thing you need to do is unplug the dishwasher and put on the gloves. "Remove all the food particles from the dishwasher, because those particles may be trapped in the filters or drain hose." First, empty the dishwasher, then Fill a dishwasher-safe bowl with 1 cup of white vinegar and place it on the bottom of the empty dishwasher. Set the dishwasher to run on a hot water cycle. The vinegar will break down any remaining bits of food, grease, soap scum, residue, and any other leftover grime. To clean removable dishwasher parts with vinegar, Poole suggests filling your sink half full of warm water and adding two cups of white vinegar. Place the parts in the sink and let them soak for 20 minutes. Then rinse them and put them back in place.
Cleaning Dishwasher With Bleach
The second method is to clean the dishwasher with bleach. Remove all dishes and racks, clean around the door, wash the basin, and remove clogs from the dishwasher's arms and drain. Remove all the food particles from the dishwasher. Disinfecting your dishwasher with bleach can help. Cleaning a dishwasher with bleach can deep clean the interior and remove tough stains, mold, and mildew. If you mix bleach with the wrong cleaning product, it can create dangerous, noxious fumes. You have to take precautions before doing this bleach process. Bleach is very harmful; it can harm our skin, our nose, and our eyes. So you have to wear thick gloves, a face mask, and transparent glasses to avoid infections and allergies from the bleach. Pour one cup of bleach into a dishwasher-safe, bleach-safe bowl and place it on the top rack of your dishwasher. It's important to note that you should not use bleach in a stainless-steel dishwasher or a dishwasher that contains stainless-steel parts, as bleach will damage it.
Cleaning Dishwasher With Hydrogen Peroxide
The other method we can use to clean the dishwasher is hydrogen peroxide. Hydrogen peroxide is available at nearly all drug stores, pharmacies, and big box stores. In your dishwasher, you can add about two ounces of peroxide to your detergent before starting it. You can also add the same amount of peroxide to your dish soap, which will make it a stronger sanitizer for banishing germs. Let it sit for a few minutes, then wipe it out to disinfect this kitchen appliance. You can create a sweet-smelling dishwasher cleaning "bomb" with hydrogen peroxide, baking soda, and essential oils.
Final words
Our blog on how to clean a maytag dishwasher will help you to clean the dishwashers, you can choose any of the methods from our guide. We suggest that using white vinegar to clean the dishwasher will give you the best result.
Related Content:
1. Maytag Dishwasher Installation 2. How To Clean Amana Dishwasher Filter?
3. How To Fix Noisy Dishwasher 4. Maytag Stove Troubleshooting