If you are going to replace your old dishwasher, you must know the following things. Therefore, check them in detail to simplify the installation process.
Replacing your home depot dishwashers is easier, you don't require any special plumbing and electrical skills. Our step-by-step guide will provide you how to replace a dishwasher at home depot. Also, you can know about the water, drain, and electrical connections for your new dishwasher.
Home Depot Dishwashers Replacement Guide:
If you are replacing an existing unit, you won't think about the area. You can fix it in the same place. Make sure that a new machine is not wider than old one. If it is exceeded, you will require a professional experience person.
Hence, be careful while buying the new dishwasher. Now, go through our complete guide to do your job.
1. Know about the Parts:
Before you planning to replace your kitchen dishwashers, you have to get an idea of its parts. Since all components connection is necessary for working properly, it is very important to know about the elements.
If you need any replacement parts, visit and buy at our PartsIPS online store.
2. Required tools:
These are the tools you have to keep before starting replacement process.
4-in-1 screwdriver.
Level.
Pliers.
Adjustable Wrench.
Screwdriver
Voltage Tester.
3. Required Materials to Replace:
Teflon tape and Braided stainless steel water line (Optional) are the materials ready ahead of time.
4. How to Remove Old Dishwasher?
Now, we are going to discuss how to remove your old dishwasher? Step-by-step process:
Power off the machine at the circuit breaker.
After that, you have to turn off the water supply at valve that supplies water to unit.
Remove the front panel of system which is near the floor using a screwdriver.
Next, disconnect the electrical wiring connections located in the terminal box.
After breaking wire connections, disconnect water supply line from a unit with help of an adjustable wrench.
You can keep a towel or bowl to collect any water that leaks after removing nuts.
Later, detach drain hose from garbage disposer or sink's drain line.
Disconnect screws from brackets that connect a dishwasher to countertop bottom and neighboring cabinets.
Now dishwasher is completely removed, pull it out, and move it from that area.
Clean out unit area completely before installing a new one.
5. Prepare the New Machine:
Un-package new one near installation location.
Point the new machine onto its back to make plumbing and electrical connections easier to access.
Now, remove front access panel of your dishwasher
Next, attach the 90-degree elbow fitting to new unit water valve from Installation kit.
The installation kit includes a new water supply valve. So, disconnect old line from shut off valve.
6. How to Install a New Dishwasher?
First, you need to connect drain line with supplied compression clamps through the hole between the unit and cabinet. You can use needle-nose pliers to open clamps and make a connection to the old one's exact spot.
Attach water supply line to the valve in 90-degree fitting and use plier for tight-fitting.
Now, adjust retaining sleeve which is underneath unit. There, you can see that slides through electrical cord. Follow manufacturer's instructions to tighten it.
You need to turn dishwasher upright and slide to its exact place to connect all lines.
Later, finish electrical connections using wire nuts and by following the brand's manual.
If electrical wire contacts with wire nut, you can wrap tape around the wires.
Note that, Front of the system and cabinet fronts should be parallel.
Before leaving, once open up water supply to check for leaks.
After that, screw dishwasher's top flange into counter underneath to keep it in place.
Install the bottom cover of the machine.
Turn the power back on and run the cycle once.
The Best Dishwashers Parts @ PartsIPS
PartsIPS is the reseller of all appliance parts. So, you can buy the needed tools for your kitchen dishwasher. If you want to replace any of your machine damaged items, select our PartsIPS store to get them.
Here, all genuine OEM replacement parts available for your appliances. Let's have a look at our few dishwasher items.
1) GE General Electric Hotpoint Sears Kenmore Dishwasher Lower Dishrack Assembly:
a) Product Features:
This lower dishrack is manufactured by one of the top manufacturers i.e., GE.
GE General Electric Hotpoint Sears Kenmore Lower Dishrack includes 8 rollers.
WD28X10384 Dishrack holds the dishes in place during the dishwashing cycle.
This item has a lightweight and helps you to move simply with its eight wheels.
The Installation process is easy takes very little time to install in your machine.
It has 22-inch long x 20.5-inch wide x 6.5 inches deep from wheel mounts.
Replaces with WD28X10165, WD28X10166, WD28X10206, and WD28X10309.
Dishrack has a tough design so that it will give more durability.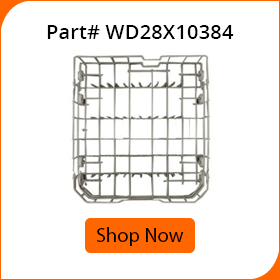 b) Product Specifications:
Part Name: General Electric Dishwasher Lower Dishrack Assembly
Part Number: WD28X10384
Manufacturer: GE
Part Type: Dishrack
2) 5'4" Dishwasher Universal Power Cord By GE General Electric Hotpoint:
a) Product Features:
Cable design allows maximum durability long life for cable through any device.
This cable provides sufficient-enough power that is needed for the machine.
5.4 feet height, this feature helps you to avoid use of other extension cables.
This GE Power cord works with most dishwashers with a 3-prong outlet box.
Molded-on straight plug that keeps the cord very close to the wall.
It has reliable ring terminals for simplified hook-up, include cord clamp.
Ensures safety along with the high current ratings won't catch fire.
Cables have high tensile strength remain flexible for many years usage.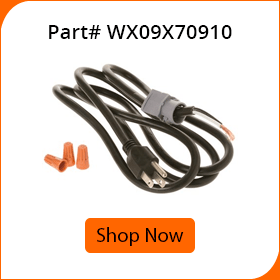 b) Product Specifications:
Part Name: 5.4 feet General Electric WX09X70910 Universal Dishwasher Power Cord
Part Number: WX09X70910
Manufacturer: GE
Part Type: Power Cord
3) GE General Electric RCA Hotpoint Sears Kenmore Dishwasher Upper Rack & Roller Assembly:
a) Product Features:
It slides into place at the top of the machine and securely holds dishes.
WD28X10210 found on Kenmore,Sears, General Electric,GE. and other units
This dishrack assembly includes strong wheels-compatible with many models.
Item is grey that suits maximum of all units, easy to install in your machine.
This is genuine GE General Electrical Part,it has lightweight and comfortable.
Dishrack is placed on the inside of appliance so that no extra space required.
Made up of metal,it allows you to give you long durability without any error.
You may return all our items within 30 days of delivery for a full refund.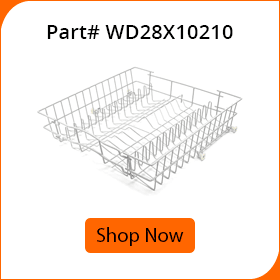 b) Product Specifications:
Part Name: GE Dishwasher WD28X10210 Upper Rack & Roller Assembly
Part Number: WD28X10210
Manufacturer: GE
Part Type: Dishrack
4) GE General Electric Hotpoint Sears Kenmore Dishwasher Countertop Mounting Bracket:
a) Products Features:
GE Dishwasher Bracket WD01X21740 has very lightweight, i.e., 0.32 ounces.
This mounting bracket will secure well your unit to your countertop.
Ease of installation and this item helps your machine doesn't tip forward.
You can use this part to fit at either the cabinet or countertop.
This bracket type fits most major brands of dishwashers perfectly.
Manufactured with high-quality metal so that there are no broken chances.
Moreover, genuine and reliable in operation, long-lasting items.
b) Product Specifications:
Part Name: WD01X21740 GE Dishwasher Countertop Mounting Bracket
Part Number: WD01X21740
Manufacturer: GE
Part Type: Bracket
Conclusion:
If you wish to know other appliances replacement process, stay in touch with us. Moreover, if you need any things related to your unit like detergent for dishwasher, we will deliver you. However, you make sure that select the best dishwasher while buying it.