Bosch Appliances and tools are manufactured to last for several years. If your appliance is new but isn't working properly, then you may need to replace one or more parts to get back in working condition. At PartsIPS, we sell Bosch Replacement Parts at retail price. So, buy your needed Bosch Parts from PartsIPS. All our parts are available online.
Buy your required Bosch Parts at PartsIPS. Pick from our wide range of Bosh Replacement Parts. All our parts are provided by a reasonable price and we deliver genuine parts all over the world. Get the OEM replacement part whatever you need from partsips.com If you're looking for genuine Bosch Home Appliance Parts, then make sure to look around the parts which are available at PartsIPS. Our parts include Bosch Refrigerator Parts, Bosch Oven Parts, Bosch Dishwasher Parts and many more.
Bosch Dishwashers are renowned for their fair operation. You have to focus on control know whether it is running properly or not. Effective sound insulation, stainless steel tubs reduce the operating noises. Bosch Dishwashers are designed for excellent cleaning performance and reliability. But sometimes, the components may fail, then you have to be replaced that component with a new item. At PartsIPS, we offer all Bosh Dishwasher Parts at very competitive pricing.
To keep your food cold, everybody needs a refrigerator in your home. Even though it is reliable and efficient, the refrigerator loses its cooling nature. It may be occurred due to problem in the power system, cooling system or a specific electronic component issue. You can troubleshoot it's problem by knowing the isolation process nothing but you have aware of common parts of a refrigerator and potential issues. If you find that replace or repair the broken parts in your appliance, buy it from PartsIPS. We are the leading distributor of Bosch Refrigerator Parts.
Bosch Home Appliances are manufactured with powerful blower motors and largest baffle filters. It looks perfect and also works properly. Bosch compact microwaves are having classic heating methods for baking and have an integrated microwave. If you like to roast, bake or grill, you choose Bosch Convection Oven. These ovens have a fan at the back that circulates air throughout the oven. These ovens have facilities of defrosting the food, slow cook and make pizzas.
Bosch Washing Machine's pulsator and dynamic water flow give excellent wash results without damaging clothes. These are designed with the lowest power and water consumption, maximum convenience and outstanding reliability. Bosch Dryers have built-in sensors that detect the moisture level and ensure that your clothes stay soft and wrinkle-free for long.
If you are already using these Bosch Home Appliances, then make sure to be kept spare parts. Replace the parts and keep your machine running immediately. Why delay, visit our PartsIPS website, i.e., partsips.com and buy your required Bosch Parts. Here, we supply high-quality parts only. Hurry up! Stock will expire soon.
Our enlarge in-stock items including Broiler valve, thermostat, adapter air channel, air duct, air grid, aquastop, bearing, gas valve, heater element and many more parts for your Bosch appliance. Search with the part number to found the required part simply.
1) Bosch Thermador Gaggenau Stove Range Oven Cooktop Solenoid Gas Valve - Part# 411253:
Bosch 411253 Valve controls the flow of gas to the surface burner. Shut off the gas supply before installing Bosch 00411253. It replaces 00411251, 00411252, 00486650 and 411253.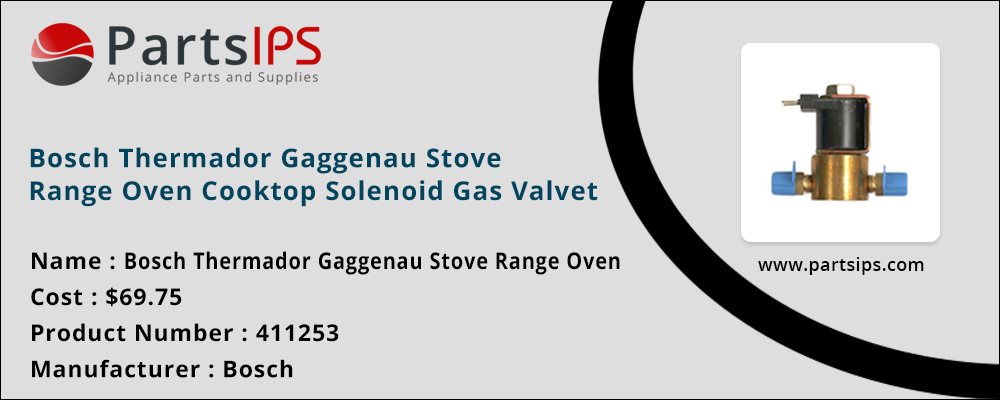 Product Name: Bosch 00411253 Gas Valve Solenoid
Name of the Manufacturer: Bosch
Model Number: 00411253
Item Type: Solenoid Gas Valve
2) Bosch Thermadore Gaggenau Refrigerator HEATER ELEMENT - Part# 249932:
PartsIPS supplies Bosch 249932 Heater Element to all our beloved customers. Are you looking for Bosch 00249932? Visit our website and order now Bosch Heater Element. We deliver high quality and reliable parts only.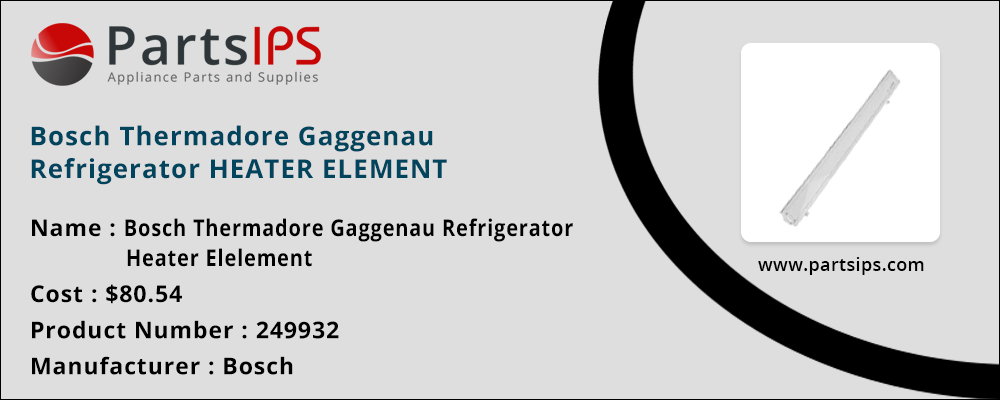 Product Name: Bosch Refrigerator Heater Element - 249932
Name of the Manufacturer: Bosch
Model Number: 249932
Item Type: Heater Element
3) Bosch Thermador Gaggenau Dishwasher Top Upper Rack Assembly - Part# 249277:
Bosch 249277 is a part of dishwasher. 249277 Bosch Dishwasher holds the dishes during the dishwashing cycle. If you want to buy this part, you can select PartsIPS.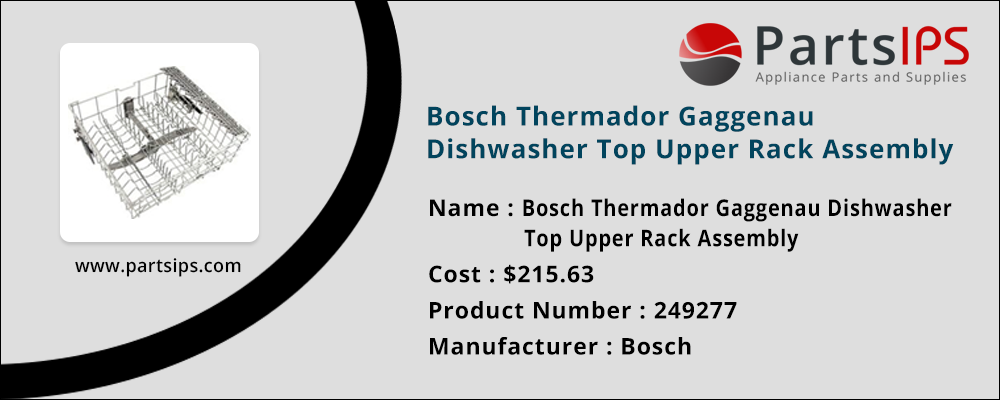 Product Name: Bosch 249277 Basket-Crockery Was
Name of the Manufacturer: Bosch
Model Number: 249277
Item Type: Top Upper Rack Assembly
4) Thermador Gaggenau Dishwasher MAIN CONTROL BOARD UNIT - Part# 488428:
488428 Bosch Control Module manages the functions of dishwasher like washing, draining, drying, etc. You should unplug the dishwasher before installing this part Bosch 488428 and wear gloves to protect your hands.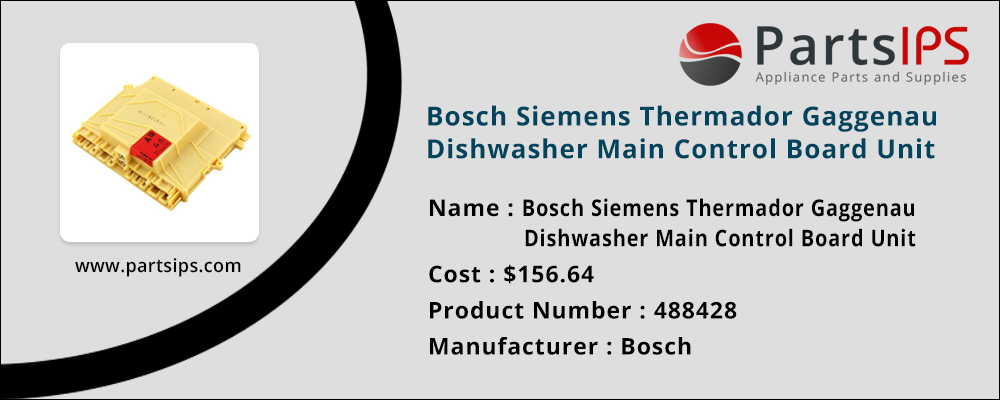 Product Name: 488428 Bosch Control Module
Name of the Manufacturer: Bosch
Model Number: 488428
Item Type: Control Board Unit