PartsIPS- Appliance Parts and Supplies is the leading distributors of Home and Commercial Appliance Parts. When you choose for your Appliance Parts, you always get excellent quality products at reasonable price. We have more than 10 brands and we supply all the Home Appliance Parts and LG Electronics Parts.
Make your day happy by Ordering LG Electronics Parts from PartsIPS where we offer low prices with excellent quality of the product. We carry all LG Electronics Parts including LG Dishwasher Parts, LG Dryer Parts, LG Washing Parts, LG Range Parts, LG Microwave Parts, LG Vaccum Parts, LG Cooktop Parts and more.
PartsIPS is an authorized LG Electronics parts reseller. Here, you can search for LG refrigerator parts , LG dishwasher parts, LG washing machine parts and much more. We avail you same day shipping. You will get the best quality product that will definitely satisfy your requirement.
LG Electronics was founded as GoldStar in 1958. In February 28, 1995 GoldStar merged with Lucky Chemical and LG Cable changing the name to Lucky-Goldstar, and then finally to LG Electronics. LG Electronics Parts plays a major role in the global consumer electronics industry. Home theater systems, computer monitors, televisions, washing machines, wearable devices, smart appliances, refrigerators and more are some of the LG Electronics Products.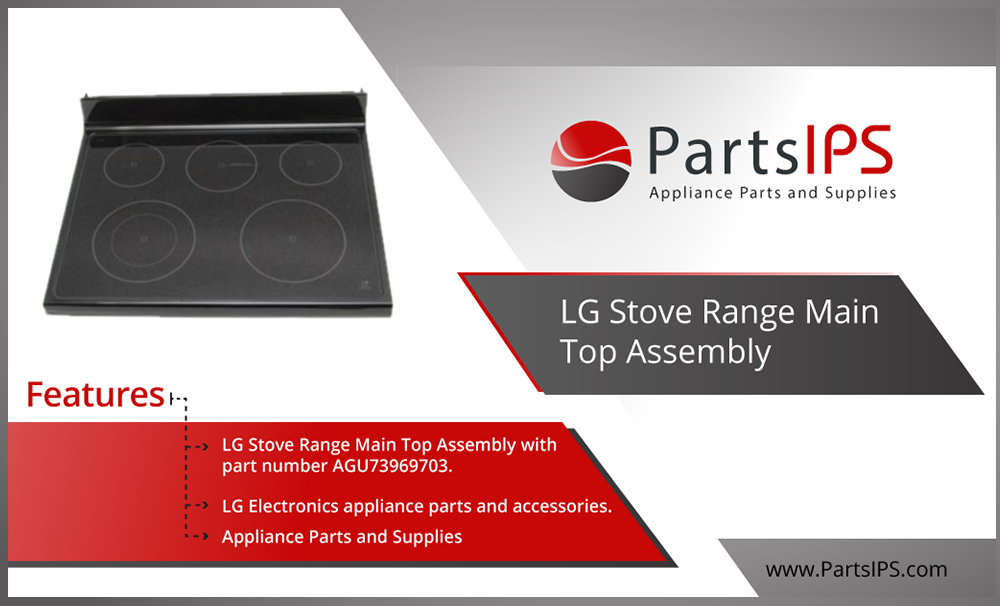 One of our best product in LG Electronics Parts:
AGU73969703 LG Stove Range Main Top Assembly Part# AGU73969703 | PartsIPS
The LG Electronics Stove Range Main Top Assembly with part number AGU73969703 is for ranges. For proper operation of this product. Stove Range Main Top Assembly, unplugging the range is important or simply turning off the house circuit breaker is necessary.
The work of this LG Electronics stove range main top assembly with part number AGU73969703 is that it houses the burners by maintaining a balanced surface for the cookware. The manufacturer reference of this product is AGU73969703.