The Appliance Cleaners are the best cleaning solutions for your kitchen. It is very challenging for anyone to wipe away the fingerprints from your appliances. Moreover, many kitchen appliances are notoriously difficult for cleaning. So, these Appliance Cleaners are used for cleaning appliances and appliance parts
Those stainless steel appliances can turn out to be extremely frustrating in order to keep it clean. At PartsIPS, you will find the highly rated appliance cleaners.
Cleaning appliances with the help of a damp or a rough cloth can call for additional maintenance. Stainless steel is best known for the capacity to resist any kind of corrosion or rust. Thus, it is a popular choice for everybody and is used in bathrooms and kitchens. Now, in order to maintain such shine and glitter, appliance cleaners are used. This makes the appliance free from grease.
The perfect cleaning and care products for cleaning appliances are essential. PartsIPS has a wide range of appliance cleaners and descalers that will definitely help you to maintain your appliance to perform best. Please note, before cleaning appliances, make sure to turn off the power switch or see to it that the power switch is disconnected.
Almost all the appliances in your kitchen whether big or small can be cleaned. For cleaning appliances, use our wide range of cleaners that will make your kitchen sparkle and germ free. Make your kitchen a dust free place for living a healthy life.
Whirlout Cleaner WO06N
Description:
The Whirlout Cleaner has very quick and simple self-cleaning action. The Whirlout WO06N helps in removing the soap scum and all the build-ups, foul odors, body and bath oils. This cleaner also helps in removing the dirt and other system residues from inside of all the pipes, pumps, fittings and also from the circulation system.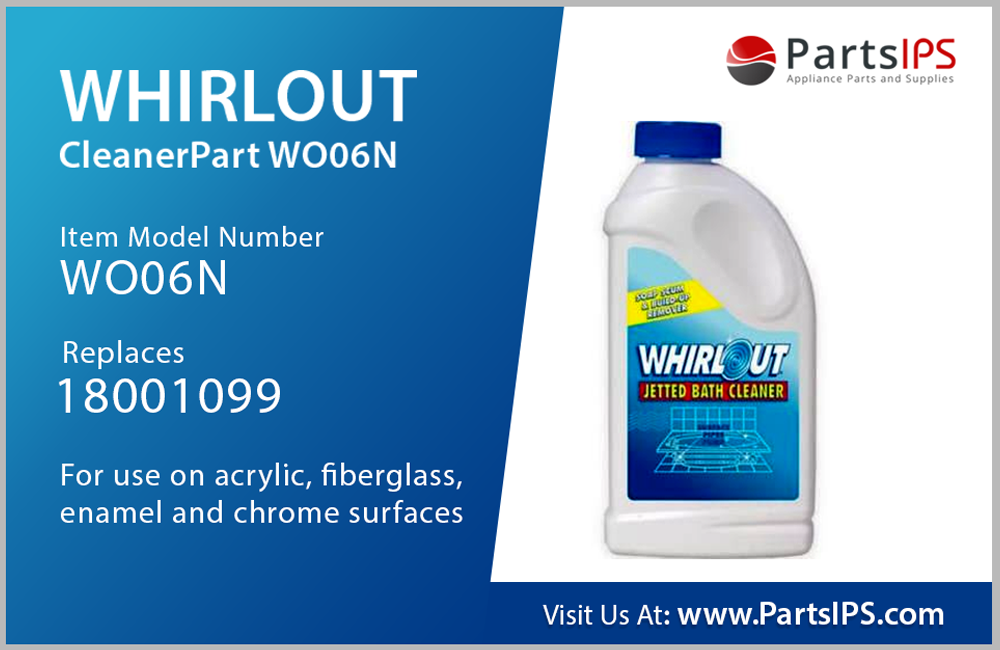 Whirlout WO06N leaves the fibreglass, acrylic, enamel and chrome surfaces fresh as well as clean. With this Whirlout Cleaner no further scrubbing is required. And regularly using this product helps to prevent any kind of build-up.
Get Whirlout WO06N in our website page PartsIPS. This Whirlout Cleaner is basically formulated for attacking your tubs soap scum, mold, mildew and more and leave behind a clean and shiny finish. This formula is very gentle to your bathroom surfaces as well as for the pipes too.
Product Specification:
Item: Whirlpool and Bath Cleaner
Product Dimensions: 2.1 X4.3 X 8.8 inches
Item Weight: 1.5 pounds
Shipping Weight: 1.6 pounds
Item Model Number/ Part Number: WO06N
Colour: White
pH range: None
Form: Powder
Size: 1.5lb
Goo Gone Coffee Maker Cleaner 1791
Description:
The goo gone coffee maker cleaner helps in the removal of hard water deposits, scale and build-up. The goo gone 1791 frees clogs which will definitely make your coffee maker run or function smoothly and efficiently.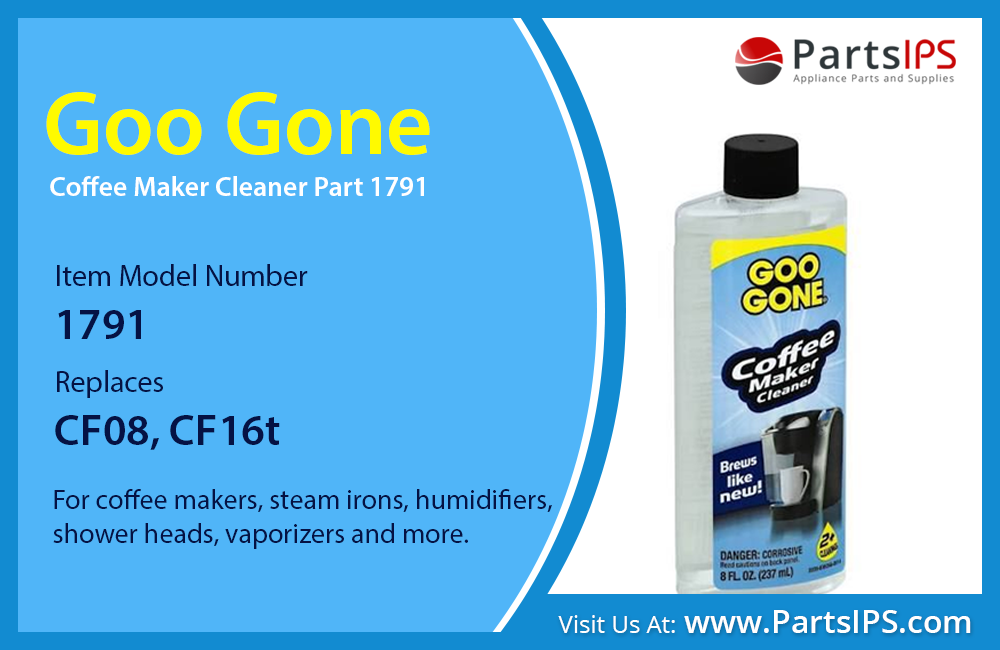 This goo gone coffee maker cleaner has the ability to work with single serve and automatic drip coffee makers. The goo gone 1791 is of superior strength and performance and it also restores the taste of coffee and preserves the appliance.
The goo gone 1791 helps in removal of the mineral deposits, build ups, clogs, lime deposits and coffee and oil deposits. For using this cleaner, you need to take apart your coffee maker for properly cleaning inside. So grab your goo gone coffee maker cleaner in our website page, PartsIPS.
Product Specification:
Brand: goo gone coffee maker cleaner
Part Number/ Item Model Number: 1791
Shipping Weight: 1.2 pounds
Affresh Washing Machine Cleaner W10135699
Description:
The Whirlpool W10135699 cleaner helps in cleaning and freshens water interior. This affresh W10135699 foaming tablet can dissolve slowly for fizzing away the residue. The affresh washing machine cleaner is definitely safe for use. It is also safe on the septic tanks.
The affresh washing machine cleaner with part number W10136599 is specially designed to go deep inside and by getting dissolved it can remove the residue which is causing any kind of odour. This can take place in all washing machines.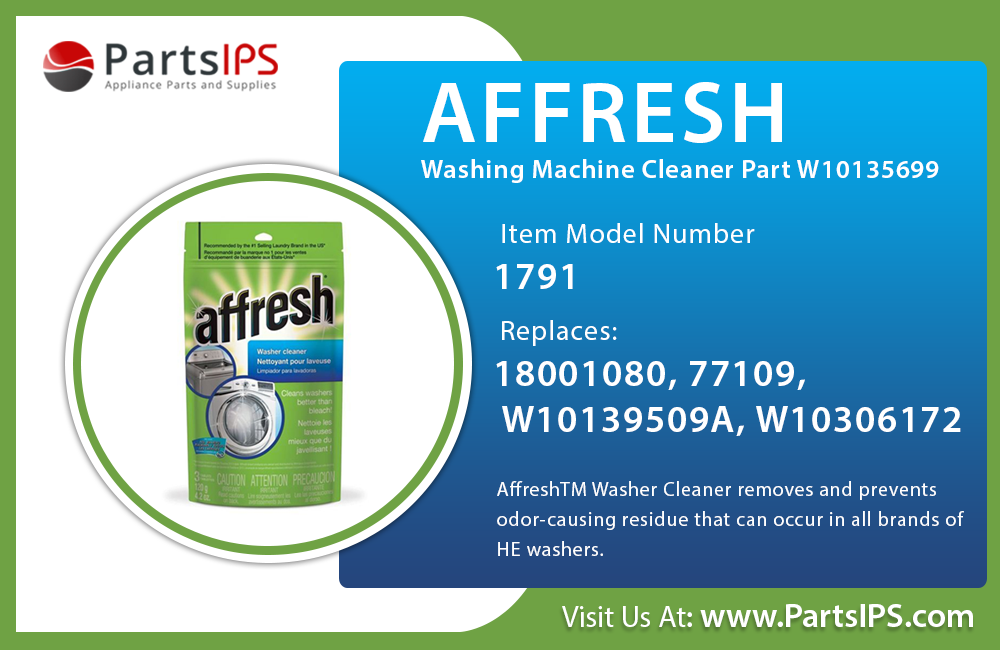 This affresh W10136599 gets slowly dissolved inside and it lasts throughout the wash cycle and it breaks up residue which is far better than bleach. The whirlpool W10135699 is totally sae for using it with the Front Loading Washing Machines as well as the Top Loading Washing Machines, with Conventional Washers and High Efficiency.
Simply use the affresh W10135699 once a month and you can notice the difference. The W10135699 helps to keep your washing machine clean and odourless. The Whirlpool W10135699 is the best cleaner for your appliance. Use this cleaner and expect high performance from your washing machines.
So what are you waiting for? Grab your affresh washing machine cleaner with part number W10135699 from our website, PartsIPS.
Product Specification:
Product Name: Affresh washing machine cleaner
Item Model Number/ Part Number: W10135699
Colour: White
Item Weight: 2.1 pounds
Product Dimensions: 9 X 5.5 X 6.8 inches
Shipping Weight: 1.6 pounds
Bbq Grill Cleaner 72380
Description:
This bbq grill cleaner is a pump spray grill cleaner and is an environment friendly product. The bbq 72380 is safe to use for your grills and ovens.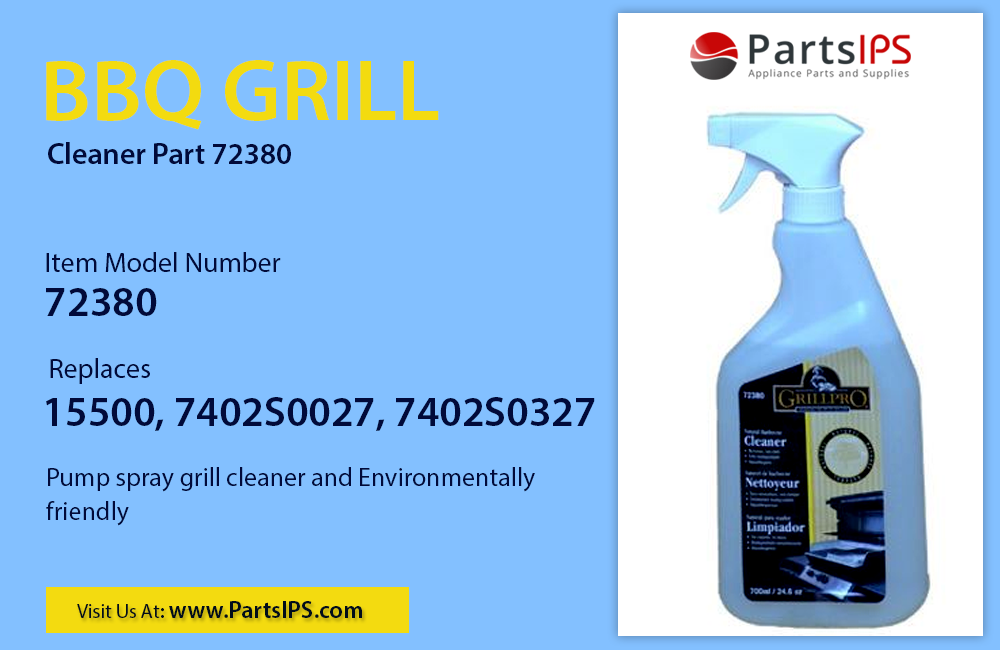 The bbq 72380 is citrusafe and is non-flammable. It is a non-toxic biodegradable and phosphate-free product. It is also non-corrosive in nature. The bbq grill cleaner works great for your ovens. So, keep your grills clean by using this high quality product.
We have a large in-house stock of BBQ parts, accessories, seasonings and sauces. Call us for your requirement and we will be happy to help you.
Product Specification:
Product Name: bbq grill cleaner
Part Number/ Item Model Number: bbq 72380
Replaces: 7402S0027, 7402S0327, 15500
Product Dimensions: 10.2 X 5.1 X 26.7 cm
Size: 750 ml
Sprayway Grill and Oven Cleaner S826
Description:
The spraywaygrill and oven cleaner 18oz S826 cleans and gives a sparkling finish to the cooking equipments that is found in the restaurants and other commercial establishments. The S826 sprayway grill cleaner cleans grills, stove burners, electric frying pans, rotisseries, and other cookware items that is resistant to caustics.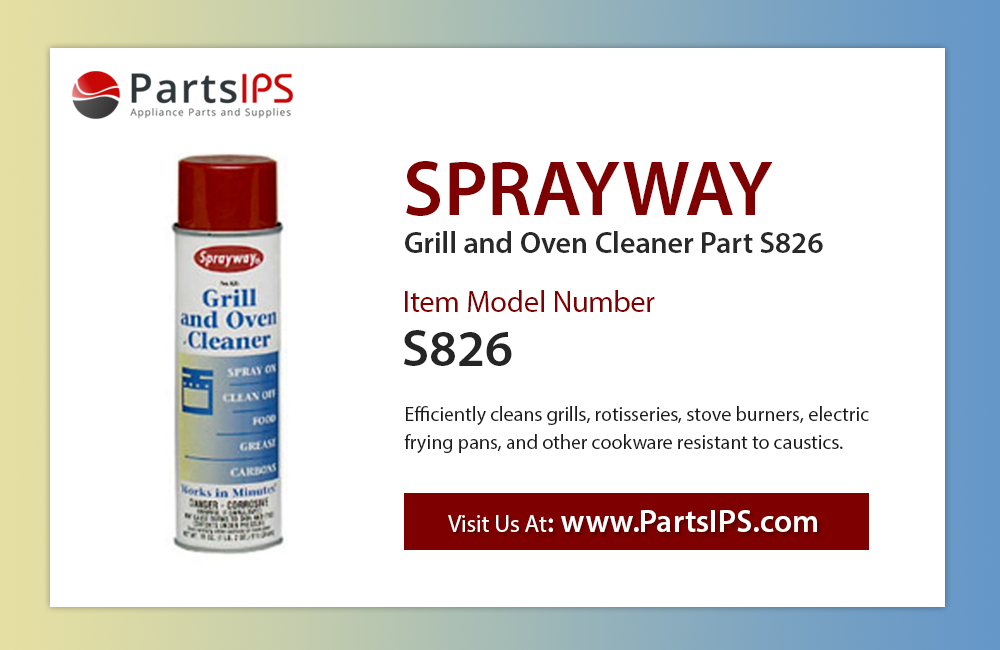 Sprayway oven cleaner is basically formulated for using it on glass, ceramics, porcelain, cast iron surfaces and stainless steels. The sprayway grill and oven cleaner S826 is not for use in self-or continuous cleaning ovens. This sprayway grill cleaner works efficiently.
Sprayway oven cleaner goes deep inside, emulsifies, lifts and holds the soils so that it is easier for you to clean the surface. This product is professionals favourite. The sprayway grill cleaner is very easy and safe to use. It will definitely solve your problems and become your favourite one too.
Give us a call for your favourite sprayway oven cleaner and we will deliver you the product with our fast shipping service.
Product Specification:
Product Name: Sprayway grill and oven cleaner
Part Number/ Item Model Number: S826
Form: Liquid
Container Type: Can