Description-
The silverware basket is more enhanced and has the ability in storing 12 more pieces of silverware. It is versatile and it can be placed in multiple positions. You can change your basket anytime. The reason behind changing your dishwasher silverware basket is when the lids are broken off, the bottom is worn out or if you find any extra large holes in your basket. It is designed in such a way so that you can clean it properly. It can be fitted in several positions in the lower rack. You will get 100% lower rack space.

The handle is more robust and it has two stages opening. This two stages opening lets you to unload your basket without just touching the part you eat with. Moreover, the silverware basket assembly allows your utensils to stay at one place during the wash. PartsIPS has a wide range of BASKT-WARE Parts and you favourite Appliance Parts. Shop for your most needed silverware basket now.
Whirlpool 3370993RB Baskt-Ware Part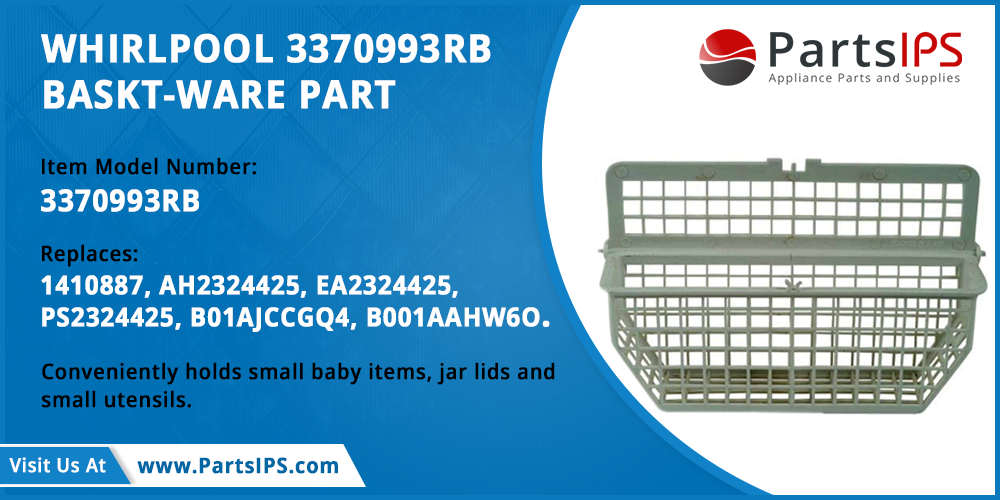 Product Description-

The Whirlpool 3370993RB helps in keeping the small items from getting slipped through the dishwasher rack. This part with part number 3370993RB is excellent for the jar lids, baby items like the baby spoons, corn-on-the-cob holders, and small utensils.

The Whirlpool 3370993RB has the ability for extending the life of the dishwasher. It has a sturdy plastic construction. This part measures 9 inches X 2.5 inches.

Product Specification-

Product Name-Whirlpool Dishwasher Small Items Basket

Part Number- 3370993RB

Package Dimensions- 9.6 x 3.7 x 2.7 inches
Whirlpool WP8531233 Baskt-Ware Part
Product Description-

The Whirlpool WP8531233 part measures about 5 inches wide by 9 inches high by inches deep. This part with part number WP8531233 replaces 8531233, PS11746119, WP8531233VP, B00LHR20E4, B00IMO5GNC.

You can replace your silverware basket with the Whirlpool WP8531233 if it gets damaged or if it goes missing. For replacing this part WP8531233, just remove the existing basket and replace it with the new one. This part works with the following brands like KitchenAid and Whirlpool. This part works with the dishwasher and it fixes the symptoms like leaking and when your dishwasher is not cleaning dishes properly.

Product Specification-

Product Name- Whirlpool Silverware Basket

Part Number- WP8531233

Product Dimensions- 20.9 X 10.5 X 4.2 inches


WP8269307 Whirlpool Baskt-Ware Part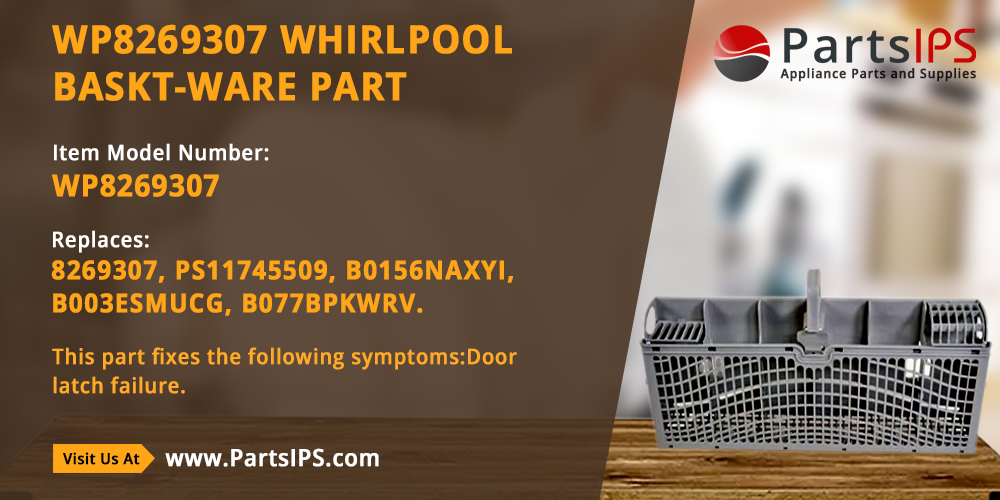 Product Description-

This part of part number WP8269307 works with many Whirlpool dishwashers. It replaces part numbers like 8269307, 904133, AP3129623, PS393170, WHI8269307. It includes the handle situated in the centre and covers on each end. It measures about 20 inches wide by 10 inches high by 2 inches deep.

This part fixes the problem like if there is any door latch failure. It is situated on the door of the dishwasher. This part WP8269307 holds the utensils such as the knives and forks in its place during the washing cycle.

Product Specification-
Product Name- Whirlpool Silverware Basket Assembly

Part Number- WP8269307
Colour- Silver
WP8562043 Whirlpool Baskt-Ware Part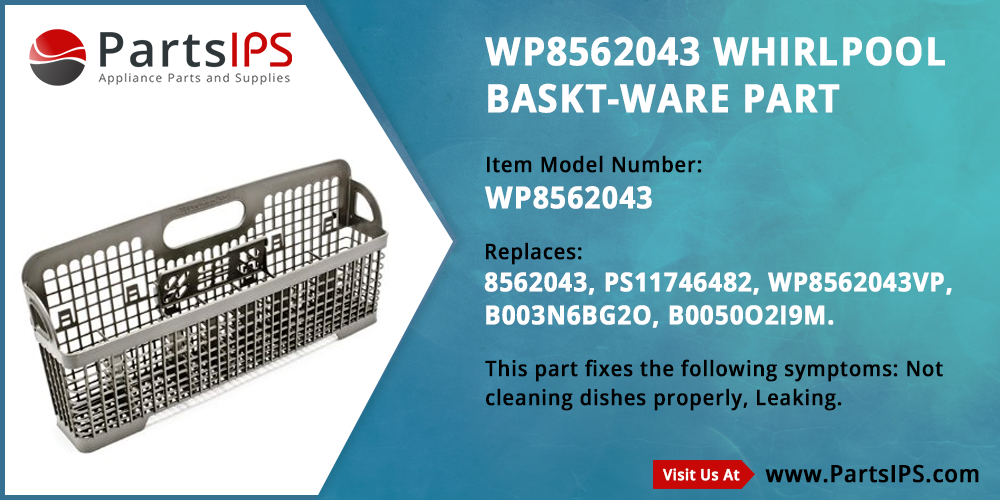 Product Description-

For replacing this part WP8562043, you have to remove the existing basket from the locking tab and fit the new one in its place. This part is a manufacturer-approved replacement silverware basket for your dishwasher. For keeping the basket safe and in a good condition, be careful when you are placing the utensils in the basket while removing it for unloading.

This part WP8562043 works with the brands like KitchenAid and works with the product like the dishwasher. It fixes the symptoms like leaking and when your dishwasher is not cleaning the dishes properly. This part replaces part numbers like 8562043, WP8562043VP.

Product Specification-

Product Name- Whirlpool Silverware Basket for Dishwasher

Part Number- WP8562043

Product Dimensions- 19 X 4 X 6 inches

WP8562045 Whirlpool Baskt-Ware Part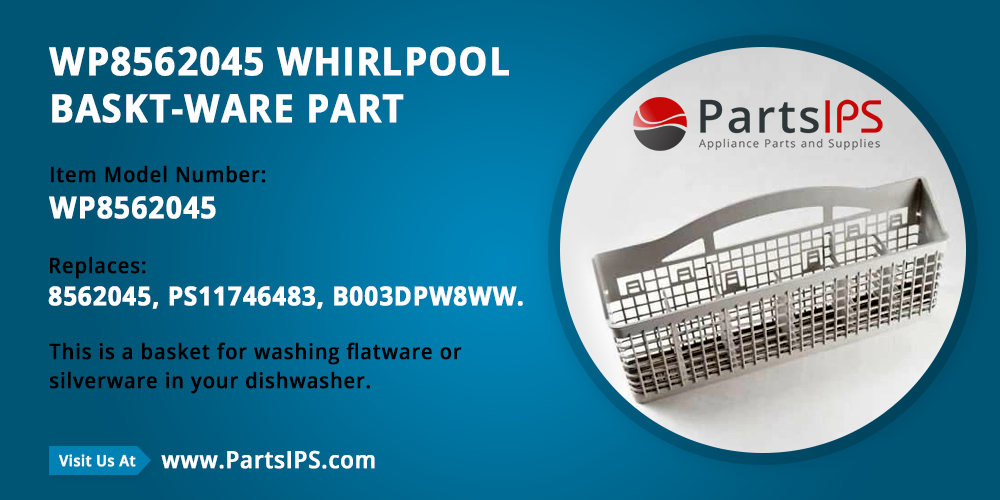 Product Description-

This part of part number WP8562045 works with brands like Whirlpool, Kenmore, Maytag and Amana dishwashers. It works with the following models like Maytag MDB4630AWB1, Maytag MDB4630AWS1, Maytag MDB4630AWW1, Maytag MDB4709AWW, Maytag MDBTT53AWB1, Maytag MDBTT53AWW1, Maytag MDC4809AWW. This part replaces part numbers 8562045, PS11746483, B003DPW8WW. This is used for washing flatware or silverware in your dishwasher.

Product Specification-

Product Name- Whirlpool BASKT-WARE

Part Number- WP8562045

Colour- Gray