If you are looking for Maytag Parts, then you have reached the right place. On this website, you can find your needed spare parts for Maytag dryers, washers and kitchen appliances. At PartsIPS, we sell Maytag Appliance Parts include Maytag Washer Parts, Maytag Commercial Dryer Parts, Maytag Replacement Parts and more. We stock a wide range of Maytag Parts, so we are sure that to have whatever you must.
Our parts include Everydrop Ice and Water Refrigerator Filter, Cook Top Gas Two Burner Module, Washer Tub Stem And Seal Kit, Trash Compactor Bags, Cook Top Gas Two Burner Cartridge, Thermostat, Thermostat knob, Assembly seal, Harper valve & screw, Sourdillion valve, 4 button switch, Pressure Switch, Dispenser Drawer Assembly, Assy-Panel Control and many more items available at highest quality. PartsIPS is the best seller of appliance parts in the world. All our Maytag Parts are available to buy online.
Here, at PartsIPS, we always dedicated to provide genuine Maytag Replacement Parts. That's why thousands of customers trusted our company. With the combination of quality parts and professional customer service, we believe that we are doing right job. Maytag is one of the reputable brands for dryers, washers, refrigerators, ranges, microwaves, cooktops, freezers. We always deliver you right parts from manufacturer.
Now, we check the history of Maytag manufacturer once. Maytag company was founded in 1893 by Fredrick Maytag. In 2006, Maytag Corporation was purchased by Whirlpool. It designs and manufactures dryers, refrigerators, washers, cooktops, ranges, freezers, irons, disposers, microwaves, wall ovens, water heaters, central cooling and heating systems. It's products are sold under Amana, Jenn-Air, Hoover and Magic Chef brands.
Maytag washers, dryers, kitchen and other appliances & accessories are made to handle all your daily things to be done with effortlessness. Maytag appliances give an effective and powerful look to your kitchen by keeping food cold or hot or your dishes clean. Shop the full line of Maytag Parts from PartsIPS at competitive prices.
Maytag washers are reliable and they add a stylish look to your laundry room. You have to find the right Maytag Washer from a variety of styles, colors and sizes which is fitted in any laundry space. When your washer stops working, you directly visit the PartsIPS. We are here to help you by providing suitable Maytag Washer Parts that can fix your appliance problem.
Maytag Dryers are renowned as reliable and efficient. There are various models in the dryers that shut off when they sense that the load is dry. Also, have some advanced features that steam out odors and wrinkles. If your Maytag Dryer is not getting your clothes dry, replace your damaged part with our Maytag Commercial Dryer Parts and fix the problem. PartsIPS is a reliable source for Maytag Replacement Parts.
Top brands like Maytag make the parts easy to replace as quick as possible. Buy from our Maytag Appliance Parts online and save your money as well as time. Find Maytag Kitchen Appliance Parts and make your kitchen running smoothly. If your required Maytag Appliance Parts are not available in our catalog page, you can contact us through email or phone number.
1) Whirlpool Maytag Admiral Amana Jenn-Air KitchenAid Magic Chef Norge Roper Sears Kenmore EveryDrop Ice and Water Refrigerator Filter 3 - Teal - Part# EDR3RXD1
Refrigerator Water Filter EDR3RXD1 reduces the 71 contaminants including pesticides, lead and pharmaceuticals. You have to replace everydrop water filter every 6 months for fresh and clean water. This filter replaces 4396841 and 4396710.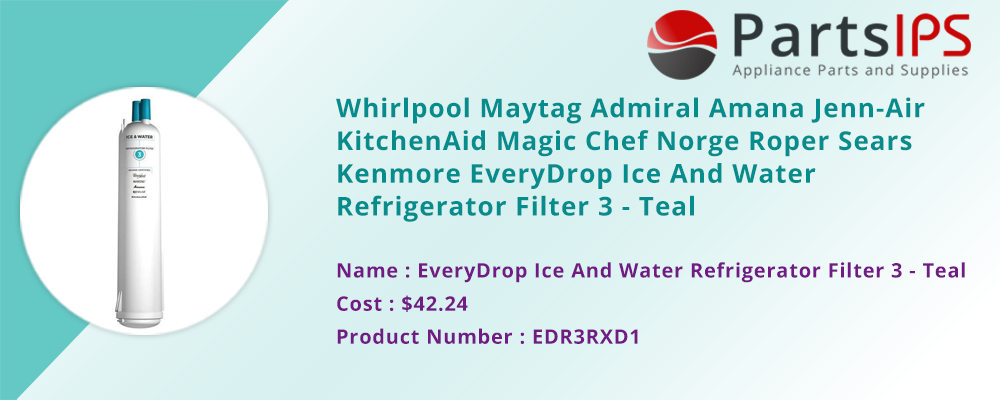 Name of the Product: Whirlpool EDR3RXD1 Refrigerator Water Filter
Item Model Number: EDR3RXD1
Brand: Maytag
Item Type: Refrigerator Ice and Water Filter
2) Whirlpool Maytag Jenn-Air Range Cook Top Gas Two Burner Module - Part# AG202MBA
Whirlpool AG202MBA Module replaces AG202MB. This is a double drip pan, 2 matte black grates. AG202MBA Whirlpool used in Jenn-Air designer line. Buy your needed Whirlpool Maytag Jenn-Air Range Cook Top Gas AG202MBA Two Burner Module at PartsIPS.We are the reseller of Maytag Appliance Parts.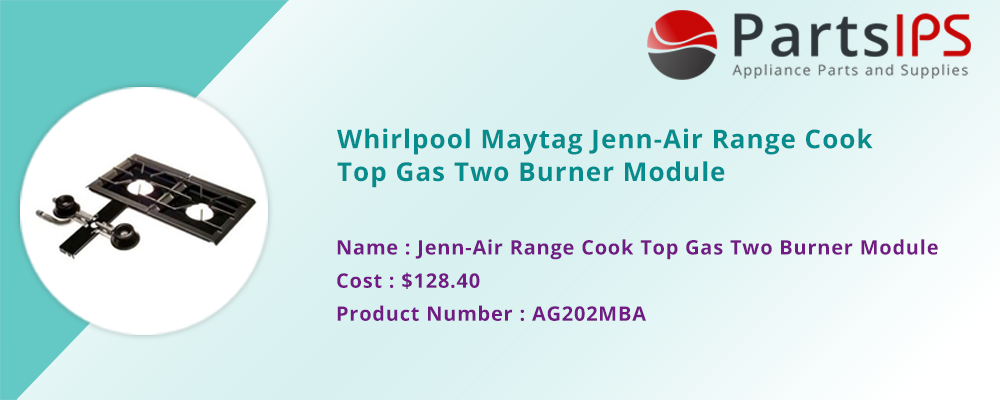 Name of the Product: AG202MBA Whirlpool Range Gas Burner
Item Model Number: AG202MBA
Brand: Maytag
Item Type: Range Gas Burner
3) Whirlpool Maytag Magic Chef KitchenAid Roper Norge Sears Kenmore Admiral Amana Washer Tub Stem and Seal Kit - Part# 6-2095720
Our Maytag 6-2095720 Washer Mounting Stem includes tub seal, mounting stem, tub locking nut and water seal inside the stem. This kit is used in helical drive machines. Visit our website partsips.com and order now.
Name of the Product: Maytag 6-2095720 Washer Stem Seal Kit
Item Model Number: 6-2095720
Brand: Maytag
Item Type: Washer Stem Seal Kit
4) Whirlpool KitchenAid Maytag Sears Kenmore 15" Trash Compactor Bags, 60 Bulk Pack - Part# W10165294RB
PartsIPS offered W10165294RB Trash Compactor Bags at very low cost. If you want to buy, place an order by registration simply. Our Whirlpool W10165294RB box contains 60 15" white plastic bags and replaces 4318922, 4318922RB.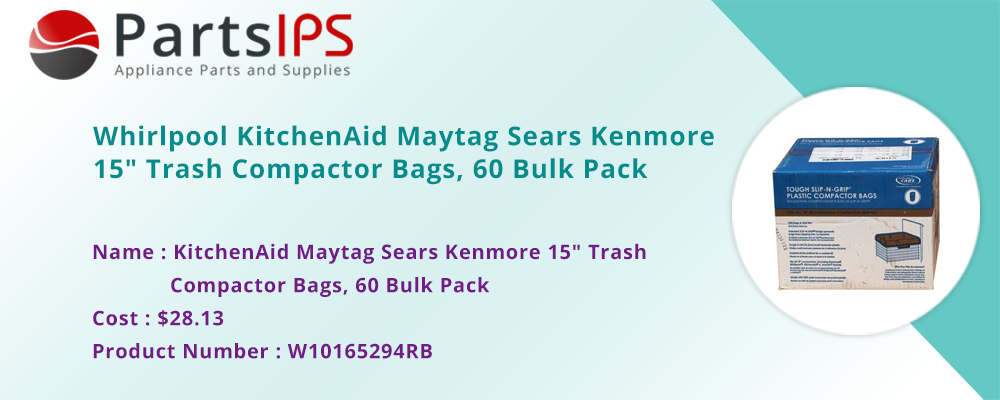 Name of the Product: Whirlpool W10165294RB 15-Inch Plastic Compactor
Item Model Number: W10165294RB
Brand: Maytag
Item Type: Trash Compactor Bag
5) Whirlpool Maytag Sears Kenmore Jenn-Air Gas Range Cook Top Gas Two Burner Cartridge, Black - Part# JGA8100ADB
We are an authorized distributor of Maytag JGA8100ADB Parts. PartsIPS supplies reliable parts only. Whether you are looking for high quality Maytag Whirlpool Parts, purchase from here.
Name of the Product: Jenn-Air JGA8100ADB Stove Cartridge Assembly
Item Model Number: JGA8100ADB
Brand: Maytags
Item Type: Burner Cartridge